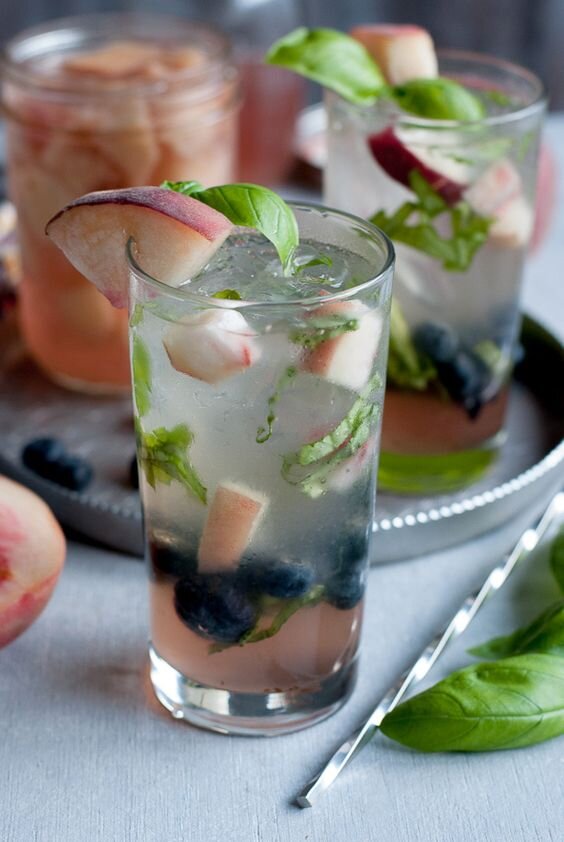 Okay, we love a good cocktail, don't get us wrong. But sometimes the timing is just off! No, we won't wake up and have a gin and tonic first thing in the morning, right? Or maybe you have to drive somewhere?….

But MOCKtails however, well those are a delightful treat that can be had at any point of the day… we consider it self care- to delicately prepare yourself or your guests a mocktail presents you with the opportunity to become present with your ingredients and infuse your drinks with love!
Try this delicious summer cocktail featuring our CLEAN tea, which supports the body through elimination and detoxification.
PEACHY CLEAN MOCKTAIL
this is for single serving, add as needed

Ingredients, :
– 1 bag of Clean Tea in half a cup of water steeped for 20 minutes & left to cool in the fridge
– 1/4 cup of pure peach juice, or muddled peaches if you can't find the juice
– 2-3 basil leafs
– frozen blueberries in place of ice cubes
– splash of tonic water or perrier to add fizz!

Blend ingredients together, then garnish with a peach slice or basil leaf.

Get creative & enjoy this nourishing mocktail! Don't forget to use code RESET15 at checkout for 15% OFF your whole order from now until July 31st!

With love,

FLEURS GIRLS